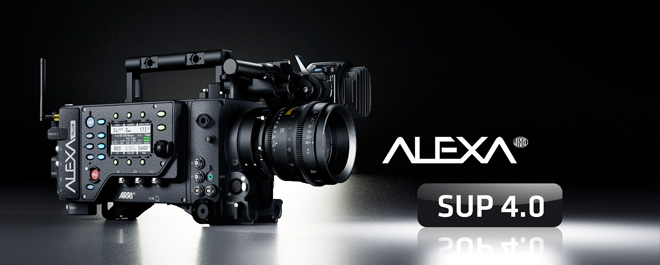 Today, Arri released a new software update for the Alexa camera. New features and improvements include:
Customized looks to be applied to all ALEXA outputs via an ARRI Look File
AUDIO Playback from SxS Pro Cards
SxS recording can be turned off
Auto white balance
False color exposure check for Log C images
Anamorphic de-squeeze
More silent operation at higher ambient temperatures
'Rec Low' fan mode for silent operation in extremely hot environments
Peaking focus check in EVF-1 and MON OUT
RETURN IN video
Compare stored image from SD card with live image
Master/Slave lens motor control
3D lens sync
Lens Data System (LDS) info display in EVF-1 and on MON OUT
As for the new "Arri Looks Files" feature, this a great new addition to the camera's output monitoring. ARRI Look Files are editable XML files that contain a number of parameters including the ASC CDL primitives slope, offset and power. They can apply a customized look to all outputs (EVF-1, MON OUT, REC OUT and/or ProRes) that are set to either Rec 709 or DCI P3. ARRI Look Files can be created with the ARRI Look Creator software, which is a new Mac program developed by ARRI that will be released soon. Various third party companies are also working on ARRI Look File compatible applications, including The Foundry, Gamma & Density's 3CP, Pomfort and others.
One of the most critical items in this update is the "Removed Adaptive De-saturation (ADS)". An image processing step, called adaptive de-saturation, has now been removed. This step was necessary before SUP 3.0 in order to prevent color clipping in highlights. With the introduction of the new color processing in SUP 3.0 it was found that adaptive de-saturation is not necessary anymore, and in some cases even resulted in image artifacts and slight hue shifts. While this will make no difference to most images, color or saturation of highlights might be different from SUP 3.x. We recommend that you shoot test images before you switch during a show from SUP 3.x to SUP 4.0.
Another cool feature that was added is the "Compare Stored Image from SD Card with Live Image". Now, a JPEG image can be loaded from the SD card into the camera and displayed on the EVF and MON OUT. This can be a JPEG that had previously been grabbed with the ALEXA, but it can also be any JPEG image. JPEGs should be 1920 x 1080 for best image quality, or if not, at least have a 16:9 aspect ratio. ALEXA will try her utmost to scale images that are not 1920 x 1080. It is then possible to compare the stored image with the life image. There are two modes for comparing: Interleave and Toggle. Interleave will create an interlaced image from the stored and the live image, alternating line by line between the two. Toggle switches between the life image and the stored image each time the Toggle button is pressed.
Visit the Arri website to download and read more: Alexa Software Update 4.0